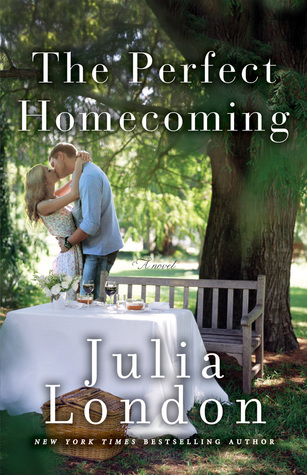 Published February 24th 2015 by Montlake Romance
New York Times and USA Today bestselling author Julia London delivers another stand-alone, heartwarming love story in her Pine River series.
Emma Tyler's cool exterior and penchant for sarcasm keep most people from getting too close…and an unusual compulsion drives her to steal from the few men who do. When her trophy-collecting habit goes too far, she quits her ritzy event-planning job in Los Angeles and runs away to Pine River, hiding with her estranged half-sisters at Homecoming Ranch and caring for Leo Kendrick, her ailing friend.
Thrillseekers Anonymous founder Cooper Jessup has his hands full with work and his brother's looming prison release date. But when a client asks him to track down Emma Tyler to retrieve a stolen memento, Cooper can't turn down the money…or the chance to see the beautiful Emma again.
When Cooper comes to collect the item, Emma refuses to admit the horrible truth. This handsome man may see right through her steely veneer, but can he get close enough to show her how love and honesty can heal a troubled heart?
Third installment of the Homecoming Ranch series, this one focuses on Emma.
Emma is actually my favorite of the sisters, I love her "tell-it-like-is" attitude. But hte chick has some series issues!
Libby is just too innocent, even now. Although her best and worst feature is that she sees the best in everyone.
Even after all the time these sisters have spent with each other, Libby (mostly) and Madeline get upset with Emma's straight forwardness.
We also get introduced to Cooper who now plays a very important part in Emma's life. Mostly hounding her for most of the book.
And again, we get to visit with Leo Kendrick. Love him!!!!!!
Loved this book! Loved it, but the Epilogue made me cry. I actually had tears a couple of times in the book.
You must read the first two books in the series before reading The Perfect Homecoming.
I received an ARC digital copy from Netgalley and a print copy as a prize for an honest review