Title
: From Deities
Author
: Mary Ting
Series
:
Descendant Prophecies #2
Expected Publication
: October 13th, 2014
A mysterious stranger enters Skylar's inner circle, throwing her life out of balance. As secrets are revealed, she learns of the New Olympus; a dwelling for the descendants of the Gods. The Grand family must strive to work together with these descendants to discover the key to their rescue from the clutches of the growing evil vultures of Hades. As the threat increases, Skylar must learn to control her newfound powers before it's too late.
(Book #1 in the Descendant Prophecies series)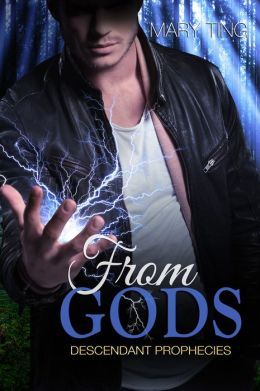 --------------------------------------------------------------------------------------
Mason squeezed his eyes shut and took a deep breath, then opened them while exhaling a puff of air with an adorable frown. "Okay, but I'm texting you every hour, so you'd better have the phone right next to you."
"Deal." I smiled, placing out my thumb. "Seal the deal, Mace." I had no idea why I had said that, except for that fact that I had done this with my dad when I was a little girl, so I was a bit shocked that the words came out of my mouth. I hadn't said that since I was eight years old. Out of habit … maybe?
Mason let out a soft chuckle. "Did you just call me Mace? It sounds hot coming out of your mouth. I'll seal the deal with my love shock." Positioning his thumb near mine, small illuminating sparks flew out from it. They looked like small, glowing branches, yet moved like long spider legs. Slowly, he moved it closer. It sizzled and crackled first, then it wrapped around my thumb. It was the coolest sight. Where our thumbs were touching glowed. The longer the light touched me, the warmer it got in that area. Then it continued to weave from my hand down to my arm, making my arm shimmer.
Watching in awe, I gave him the biggest smile I could. Suddenly, my body jerked and I dropped my hand. "Ouch."
Mason captured it and rubbed the area. "Shit! I'm so sorry. Sometimes I can't control it around you."
I formed my lips into a wicked, sexy grin. "Sometimes, I don't want you to."
--------------------------------------------------------------------------------------
Mary Ting resides in Southern California with her husband and two children. She enjoys oil painting and making jewelry. Writing her first novel, Crossroads Saga, happened by chance. It was a way to grieve the death of her beloved grandmother, and inspired by a dream she once had as a young girl. When she started reading new adult novels, she fell in love with the genre. It was the reason she had to write one-Something Great. Why the pen name, M Clarke? She tours with Magic Johnson Foundation to promote literacy and her children's chapter book-No Bullies Allowed.
Website
†
Facebook
†
GoodReads
†
Twitter
†
Instagram
†
Pinterest
--------------------------------------------------------------------------------------
​