Title
: From Deities
Author
: Mary Ting
Series
:
Descendant Prophecies #2
Expected Publication
: October 13th, 2014
A mysterious stranger enters Skylar's inner circle, throwing her life out of balance. As secrets are revealed, she learns of the New Olympus; a dwelling for the descendants of the Gods. The Grand family must strive to work together with these descendants to discover the key to their rescue from the clutches of the growing evil vultures of Hades. As the threat increases, Skylar must learn to control her newfound powers before it's too late.
(Book #1 in the Descendant Prophecies series)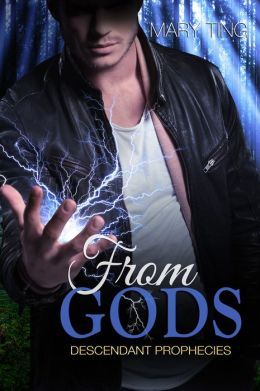 --------------------------------------------------------------------------------------
When I sensed movement, I peered up. Seeing countless liquid droplets hovering above us, as if they were raindrops frozen in place, was a clear indication that Poseidon's descendants were somewhere in the room. It was a beautiful sight, yet deadly. I knew at any moment it could change its shape into something sharp and lethal. I became uneasy, especially when they were right above us.
When I followed the line of the vultures' vision, I saw liquids of various colors—the colors of whatever drinks had spilled on the floor—slithering toward us. Then they lifted, swirling continuously in a circular motion, and finally forming into a huge sphere.
"Why are they still in human form?" Nicked shouted, having both of his hands raised, ready to attack. "They've already scared all of the humans away."
"I have no idea," Mason replied.
"Where's Kayla?" I asked frantically. Bewildered by what I was able to do, I had forgotten about my cousin.
"She's out. She's underneath the bar," Nick explained. "I had no choice. It was the safest place."
I felt horrible. Many times before, Kayla had to be knocked out, but at least she was safe and that was all that mattered.
"What do we do?" Amanda asked. "We're just standing here in ninja stance, having a staring contest."
"Maybe they're not vultures?" Everett added.
"They sure smell like them," Nick sneered.
"Maybe they're scared shitless. I would be too if I had those things pointing at me," Nick commented.
"What do you want?" Mason asked the strangers in an authoritative tone, and asked another when there was no answer. "Who sent you?"
--------------------------------------------------------------------------------------
Mary Ting resides in Southern California with her husband and two children. She enjoys oil painting and making jewelry. Writing her first novel, Crossroads Saga, happened by chance. It was a way to grieve the death of her beloved grandmother, and inspired by a dream she once had as a young girl. When she started reading new adult novels, she fell in love with the genre. It was the reason she had to write one-Something Great. Why the pen name, M Clarke? She tours with Magic Johnson Foundation to promote literacy and her children's chapter book-No Bullies Allowed.
Website
†
Facebook
†
GoodReads
†
Twitter
†
Instagram
†
Pinterest
--------------------------------------------------------------------------------------
​